Leaf Mobile For Autumn Crafts
Every time I take a walk outdoors in the Autumn I think of making a leaf mobile. The colours are just too nice and inspire the creativity in me and I am sure the children will love to see those leaf shapes above their heads as if they were falling from the trees. So let`s have a go!

You will need to collect some materials together.
Materials and Tools



Card of various Autumn colours 
White card

Scrap card for templates

3 long rattan or garden sticks

Thin string or strong thread

Paper punch

Crayons, felt tips. or acrylic paint

Make some leafy shapes from spare or scrap card. I used card from an old document folder. Did you notice how the shapes were created? Leaves have veins and they run with the shape of each one.
So to make a shape, first draw the veins and then draw around them. These can now be cut out and used as templates. But don`t throw them away! Colour them in later to add to your leaf mobile. If you collect some fallen leaves, look at the network of veins and copy them.

| | |
| --- | --- |
| Place the templates on the card and draw around them. We have used 3 shapes some are large and some small over yellow, orange, brown, red, and green card. Try using some of the scraps to add contrasting bold patches of colour to leaves. | |
| | |
| --- | --- |
| | We have also made some white shapes and coloured them in using felt tips and pencils. Doing this creates interesting shades of colours adding to a more vibrant leaf mobile.  When you have traced out enough, cut them all out and punch a hole anywhere you like around the edge so that when you attach them to the string the leaves will appear to be tumbling as they fall. |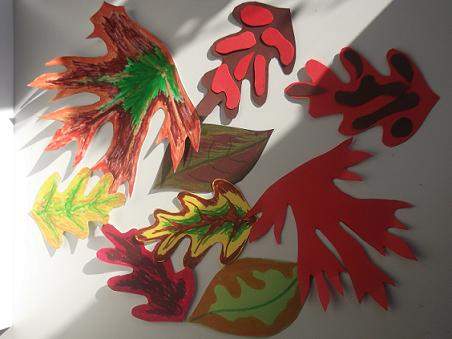 | | |
| --- | --- |
| Cut one of the rattan or garden sticks into 2 equal parts, find the center point on both and tie them together into a cross. Wrap the string around them and tie it tight. Adding some glue helps to keep the knot from unraveling. | Further along the string tie the other 2 rattans or garden sticks together also at the center points and secure them in the same way but leave a length of string to hang it up when it is complete. |
Now you can tie the leaves onto the mobile. Attach a piece of string or thread to each leave and tie them onto the ends of the sticks first, 8 in all. We used golden, sparkly string  as a nice finishing touch.

Tie any remaining leaves along the sticks to balance the leaf mobile. When you are finished find a place to display it and where it will not be disturbed.

Make some more Autumn Crafts before the season has gone!